Understanding Domestic Semiconductor Specialty Gases Industry
1. Industrial Food
Compared to the large silicon chips used to make integrated circuits, the application of specialty gases in semiconductors is relatively unfamiliar to the public. It is known as the "food" and "source" of semiconductors and planar display materials and is an indispensable strategic material for semiconductor manufacturing.
This category has been precipitated in the China industrial system for 30 years, however, it has only been in the last 10years that it has really developed. According to forecast and analysis report on the production and marketing demand and investment of China's specialty gases industry released by the prospective industry research institute, specialty gases are mainly used in the fields of electronics, chemical industry, medical treatment, and environmental protection, among which the electronic industry accounts for 41% approximately.
In short, chip manufacturing involves the five production stages: silicon wafer preparation, silicon wafer manufacturing, silicon wafer testing/picking, assembly and packaging, and testing, and final testing, which are independent of each other, while specialty gases are more or less involved in all aspects.
For example, to provide the required energy to the reaction system, it is necessary to deposit a layer of solid film on the surface of the silicon wafer by gas mixing. This process is called " Chemical Vapor Deposition (CVD)". The commonly used specialty gases include high-purity nitrogen, silane, etc; another example, high-purity carbon tetrafluoride, high-purity hexafluoroethane, and other fluorine-based gases are the main medium used in the etching process.
Carbon tetrafluoride is used in plasma etching gas.
According to the application, specialty gases can be divided into doping gas, epitaxial gas, ion implantation gas, led gas, photolithography gas, carrier gas, and dilution gas. Among them, photolithography gas is the source of deep ultraviolet produced by lithography machines. The wavelength of the light source generated by different photolithography gas is different, which directly affects the resolution of the lithography machine, and is one of the cores of the lithography machine.
Specialty gases have extremely strict requirements in purity, composition, the maximum content of harmful impurities, product packaging, and storage, etc, which belong to high-tech and high valued-added products.
At present, there are more than 110 kinds of specialty gases used in the semiconductor industry, and 20-30 kinds are commonly used, accounting for 14% of the demand for raw materials, second only to large silicon wafers.
As an indispensable key material, the rapid development of the domestic semiconductor industry has led to a substantial increase in demand for specialty gases. According to the data of China Semiconductor Industry Association, in 2018, the market scale of China electronic specialty gases has reached 12.16 billion yuan, with a year-on-year growth of 11.2%, accounting for 38.15% of the global market; it is estimated that the scale will reach 23 billion yuan in 2024. Globally, the demand for electronic specialty gases is also increasing. In 2018, the global market scale of electronic specialty gases for integrated circuits has reached US $4.51 billion (about RMB 31.87 billion,with a year-on-year increase of 15.9%.
As the cornerstone of high-tech industry, such as the Internet, aerospace communication, unmanned driving, the development of China's position in international competition, Therefore, as the rigid demand of semiconductor production, electronic specialty gases is a subdivision track with great growth potential.
After years of technological accumulation and mergers and acquisitions, the global industrial gas market has formed an oligopoly pattern of "four gas enterprises". The right to speaking of the specialty gases industry is also firmly held in the hands of Air Liquide Inc, Linde Inc, Praxair Inc, and Air Products & Chemicals Inc.
At present, China's specialty gases are mainly imported. As of Feb 2018, China's import of specialty gases amounted to US $2.451 billion, while the export value was the only US $146 million. This means that once foreign enterprises or the government take this opportunity to impose sanctions on China's semiconductor industry, the existing capacity of domestic specialty gas enterprises will not achieve effective replenishment.
2. Years of Scarcity
Why are China's electronic specialty gases controlled by others? The answer lies in the development process of the semiconductor industry.
In the 1950s, China's semiconductor industry was still in its infancy. In the first and second "five-year plan", semiconductors were included as key scientific and technological projects. However, due to the drastic changes in the international and domestic political situation, the state has almost stopped investing in semiconductors.
After the reforming and opening up, the development of China's semiconductor industry was mentioned again on the table. But the gap with foreign countries is already tremendous.
Meanwhile, the USA, Japan, South Korea, and other countries have accumulated more than 10 years in the field of the electronic industry. The electronic specialty gases industry has also been subdivided from the industrial gas industry due to the rapid development of semiconductors and has gradually developed numerous leading companies and mature international cooperation modes.
In the mid-1980s, Air Products & Chemicals Inc (APCI) entered China and became the first overseas gas enterprise to invest in China. It is mainly sold industrial gas equipment such as air separation and oxygen generation equipment to domestic steel companies and chemical companies. It's worth noting that at this time, APCI has begun to supply a small amount of specialty gases products to the Beijing-Tianjin area to meet the small production needs of the electronic industry.
Subsequently, gas companies from all over the world have successively invested in China, or set up sole proprietorship enterprises, or joint ventures to establish factories, to seize the Chinese market. For a time, joint ventures with domestic companies providing policies, factories, labor, and foreign companies providing technology and equipment have sprung up all over China. By the end of May 1995, foreign gas companies had invested more than US $520 million in China, and about 58 joint venture gas companies had been established.
With the deepening of the reform and opening up, China gas industry could make up for the gap in technology and equipment with the help of other countries' advantages. However, it has also laid a hidden danger for the development of China's specialty gases industry.
During this period, most of the packaging and testing processes China's semiconductor industry introduced into were low technical content, which made China's semiconductor industry in a disadvantaged state in the supply chain and directly affected the production and supply level of the upstream specialty gases. At the same time, because the driving force for the development of the downstream completely depended on policy investment, attached importance to short-term results and benefits, lacked long-term concepts, this thinking of drinking poison to quench thirst has spread to the specialty gases field. Depending on cooperating with foreign enterprises, great benefits could be obtained, and in addition, the technical gap was huge so that few enterprises could settle down to engage in R&D.
On the contrary, to keep the leading position, cutting-edge foreign gas companies invested huge amounts of money in R&D every year. Taking 1995 as an example, the lowest R&D Investment of gas companies was 61million US dollars, the highest was 144.6 million US dollars, which accounted for the highest proportion of the net profits of 36.75%.
It's worth mentioning that in that year, the British BOC Processing Equipment Company also designed and developed an on-site assembled nitrogen production equipment, especially suitable for the production of electronics, metals, and other fields.
China's gas specialty industry, which lacks independent research and development capability, can only look at the back of the giant. China was increasingly realizing that the strategy of exchanging the market for technology was not the long-term solution after all. In June 2000, the state promoted the semiconductor industry to the national strategic level for the first time, and issued the "Policies to Encourage the Development of the Software Industry and the Integrated Circuit Industry" (i.e. "No. 18 documents") to revitalize the semiconductor industry. In September of the next year, to implement the "No. 18 documents", the "Response Letter of the General Office of the State Council on Further Improving the Development Policy of the Software Industry and Integrated Circuit Industry" was issued.
However, due to the limitation of historical conditions, both documents focused on the localization of semiconductors, unable to take into account the constraints of upstream specialty gases and other raw material industries on semiconductors. Until 2020, "Several Policies to Promote the High-Quality Development of the Integrated Circuit Industry and Software Industry in the New Era" issued, the distribution of China's semiconductor industry has expanded from specializing in the production of integrated circuits to the whole semiconductor industry chain.
"Just as "the founder of the two bombs" Qian Xuesen lamented: "in the 1960s, we devoted ourselves to" two bombs and one satellite ", and we got a lot; in the 1970s, we did not engage in semiconductors, so we lost a lot.
3. Watershed
Zhang Rujing, the founder of SMIC international, once said: " Semiconductor industry should be invested for a long time, and relevant employees should also be able to endure loneliness." After "No.18 documents" issued, China began to devote itself to the research of semiconductor technology, Domestic specialty gases enterprises also followed the pace and began to overcome the technical difficulties, and achieved some results.
At the 14th National Specialty Gas Annual Conference in 2010, industry insiders began to confidently shout: " Domestic specialty gas must become the main force of China's chips, LED, solar cell and other fields. It is only a matter of time!"
Such confidence was derived from the great role that the domestic high-purity ammonia has played in the solar field, At that time, the domestic market needed about 1000 tons of high-purity carbon tetrafluoride every year, with a purity of 99.9995%, which basically met the demand. Based on this, specialty gas practitioners were pleased to believe that domestic enterprises already have large-scale production capacity, localization is the general trend, and the era of "having price but not goods" before the financial crisis has basically ended.
However, the development of reality has proved that such a conclusion is still too early. A single technological breakthrough didn't make China's specialty gas enterprises proud. SAI's statistics showed in 2019, the global gas giant still accounted for 88% market share of China's specialty gas market; domestic enterprises only accounted for 12%, which could be described as surviving in the cracks.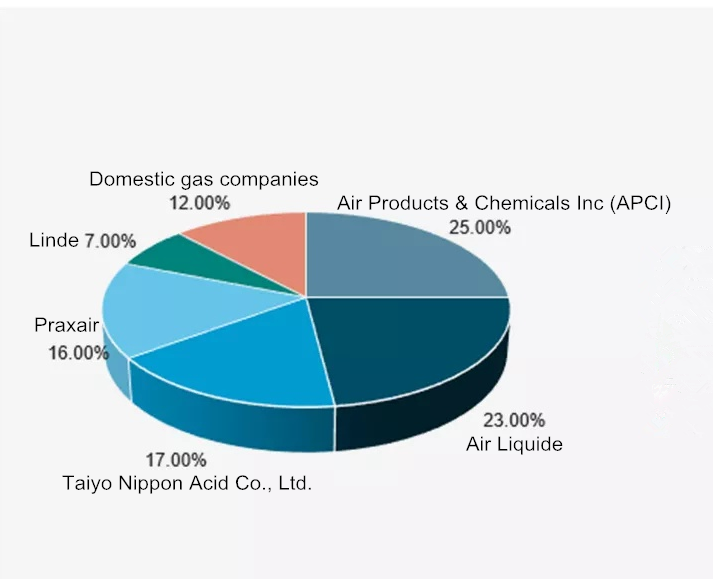 Share of the domestic electronic gas market
According to industry insiders, downstream industries with high precision such as very large-scale integrated circuits and new display panels have a strict selection of gas suppliers, long certification cycles, and strong customer stickiness. In addition, customers have the characteristics of multiple varieties, small batches, and high frequency for specialty gases supply. They not only hope that suppliers can provide one-stop gas service but also have higher requirements for comprehensive service capacity and distribution capacity of gas companies. All of these require enterprises to have profound industry accumulation and profound industry understanding. In other words, to realize the long-cherished wish of localization, a technological breakthrough is only one aspect. Only by raising the comprehensive ability can we compete with international giants in a wider range.
Customers have strict requirements for specialty gases supply enterprises
China's gas companies, who had a clear understanding of the reality, with a more earnest and firm attitude, dived into the deeper hinterland of the industry. Taking Haute gas as an example, as a pioneer in the field of specialty gases, Haute gas broke the import restraints on high-purity hexafluoroethane, AR / F / NE mixture, AR / NE mixture, and other specialty gases products, and became the domestic substitution of 20 products.
In addition to paying attention to the research and development of multiple technologies including synthesis, purification, and mixture gas preparation in the production process, Haute gas cultivated domestic leading technical strength and comprehensive serviceability by making a specific analysis of customer demand, and obtained the trust of famous downstream customers such as SMIC international, TSMC, China Resources Microelectronics, and BOE, not only helped them solve the restrictions on gas materials but also achieved more than 80% customer coverage of domestic integrated circuit manufactures above 8 inches.
Besides, Haute gas also entered into the supply chain system of global leading semiconductor enterprises, such as Intel, Micron Technology, Texas Instruments, and Hynix.
Similarly, Jinhong gas, which is good at scientific research ability, has also established long-term and stable relationships with many high-quality customers. According to the financial report of Jinhong gas, it had only a national enterprise technology center, CANS laboratory, and post-doctoral research station in the gas industry that focus on the research and development of electronic gas, and took the specialty gases and bulk gas applied in the electronic semiconductor field as the key research and development direction. The R & D investment-making company has multiple core technologies throughout the whole process of gas production, purification, detection, transportation, and use, and had 150 patents (including 32 invention patents). In 2019, Jinhong Gas's revenue from core technologies accounted for more than 87% of its total revenue.
It could be seen that in the competition with international giants, domestic specialty gases enterprises have forged ahead and gradually formed core advantages of strong research and development capability, various product types, and brand advantages of the semiconductor industry. The seemingly huge market share gap could be reversed through strength changes.
4. Forced to Liangshan
Under the current situation, the localization of specialty gases has even been an inevitable choice.
For a long time, specialty gases have been heavily dependent on import, resulting in high product price, long delivery cycle, and untimely service problems, which seriously affected the production activities downstream, restrained the stable development of China's semiconductor industry; with the rapid development of domestic semiconductor and new energy industry, the demand for localization of specialty gases is increasingly strong; the support of national industrial policy and the technical breakthrough of domestic specialty gases objectively made it possible for domestic specialty gases to gradually replace import.
The ever-increasing trade friction between China and the United States has also deepened Chinese understanding of the semiconductor industry, People's focus has expanded from a single link such as design and manufacturing to the whole system of scientific research, development, design, material production, integrated application, and system ecology.
Meanwhile, China, as the world's factory for the long term, was at the critical turning point of industry transition. On the one hand, China holds the world's leading 5G technology and was ready to overtake at any time; on the other hand, Chain was constrained by other countries in many aspects of the semiconductor industry chain. The imbalance between advantages and disadvantages was seriously restricted China's international competition.
From the ZTE incident in 2018 to the ban on Huawei in 2019, and the recent forcing of TikTok to "sell out" and "clean the network" action…… The US government's measures enabled China to realize that establishing an independent, controllable, safe, and reliable semiconductor industry system is a crucial strategic deployment, and also a breakthrough to catch up with and surpass.
As "industrial food", accelerating the localization of specialty gases is to build an independent industrial granary for China's semiconductor industry as soon as possible. In recent years, driven by favorable policies and market space, specialty gases are favored in the capital market.
Taking Jinhong Gas as an example, on May 20th, 2020, the China Securities Regulatory Commission (CSRC) agreed to raise more than 1.7 billion yuan from the public, of which above 60% would be used for the research and development of new electronic specialty gases product to break the foreign monopoly and improve the market share. Subsequently, Guosheng Securities issued a research report and it is estimated that Jinhong gas will achieve revenue of 1.3 billion yuan, 1.53billion yuan, 1.77billion yuan respectively in the next 3 years, and realize 181 million yuan, 246 million yuan, 304 million yuan net profit attributable to the parent company, which is rated as "buy-in".
Coincidentally, Haute Gas, which was listed on the Science and Technology Innovation Board at the end of 2019, also emphasized in the company's annual report that it will increase the R&D investment and marketing network coverage of electronic specialty gases; recently, it also issued 1.27 million off-line allotment shares involving 262 shareholders, including long-term strategic investment funds.
As a matter of fact, many domestic specialty gases enterprises, such as Nanda Optoelectronics, Haohua Technology, Jacques Technology, and KMT Gas, are actively expanding their business in the electronic specialty gases field and have obtained capital blessings. While competing with international giants in technology, they are seizing huge space for substitution.
Although the superposition of various internal and external factors, once China's specialty gases industry is determined to make a breakthrough, it's believed that it will be surely born a giant in the industry and even in the world.
XJYSilicones
XJYSilicones is a new enterprise for silicone resin innovation and R&D, with more than 30 years of experience in the silicone industry.
We manufacture and customize XJY -705 1,3,5,7-Tetramethylcyclotetrasiloxane can be applied to the Semiconductors Specialty Gases Industry. Our manufacturing, R&D, and sales services obtained the ISO9001 certificate.