Benefits of silicones in the electronics fields
Electronic components are sometimes encased in silicone to increase stability against mechanical and electrical shock, radiation and vibration, a process called "potting". Silicones are used where durability and high performance are demanded of components under hard conditions, such as in space (satellite technology). Silicones also have the advantage of little exothermic heat rise during cure, low toxicity, good electrical properties and high purity.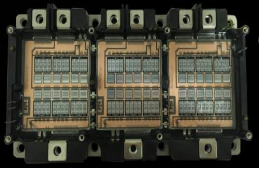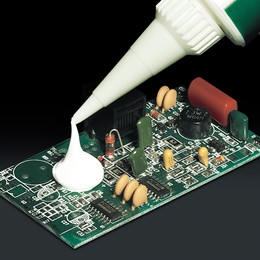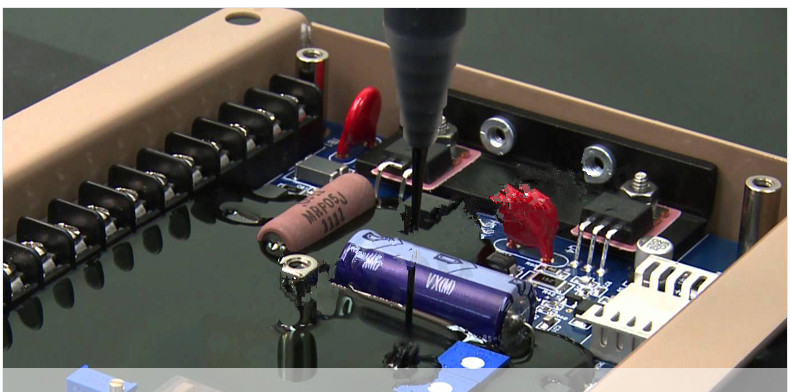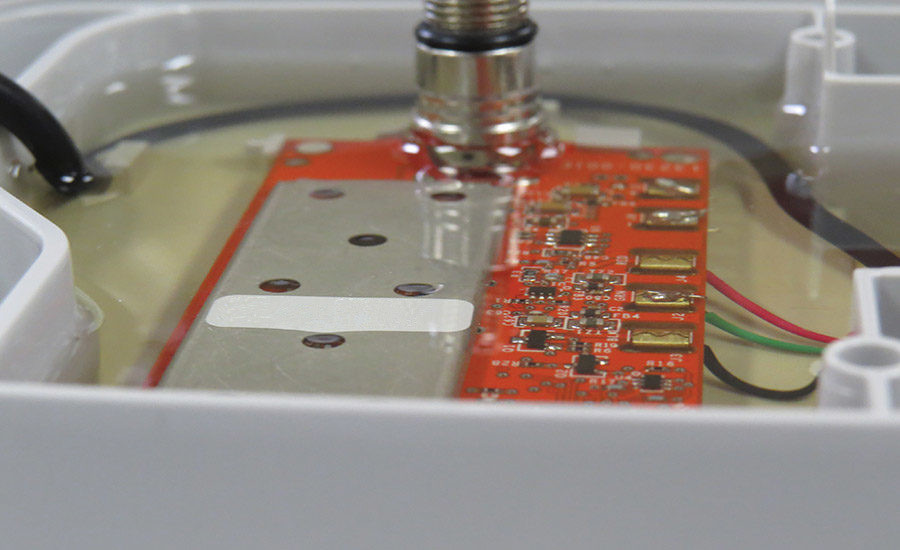 The wide acceptance of silicones in the electronics industry is due to several technical and mechanical properties including:
Mechanical strength

Dielectric strength

Moisture resistance

Low modulus to protect internal stress

Damping properties

Environmental resistance

Excellent adhesion if needed

Flame resistance, UL 94 flammability

Optical clarity or Thermal resistance over a wide range of temperatures
High-performance electrical materials made with silicone technology are making their way into today's increasingly demanding electronic and electrical applications. Room Temperature Vulcanizing is widely used in this field as permanently flexible rubber. Silicones can seal and protect sensitive electronic components, semiconductors, and devices from heat, contamination and accidental damage, and help ensure a continuous supply of electricity.
Electronic applications
The electronics industry has a variety of technical categories, from components, and electronic components to complete products, product forms are diverse, will use a variety of silicone products. Such as the bonding and fixing of electronic components need to use silicone adhesives, electronic components and circuit board potting need to use silicone potting adhesive, shell joints and other waterproof sealing need to use silicone sealant, circuit boards, modules, devices need to use silicone coating adhesive protection ......
What is the c

lassification of

electronic silicone

in electronic application

products?
| | | | |
| --- | --- | --- | --- |
| Product | Material Type | Performance Characteristics | Application |
| Silicone Adhesive | One-component moisture-curing RTV(dehydrated), two-component condensation-during | Good adhesion, fast curing, suitable rheology, adaptable to a variety of use environments | Used for bonding and fixing of various electronic components(such as capacitors, resistors, inductors, etc.) and mechanical parts(such as fans, heat sinks, panels, etc. |
| Silicone Sealant | One-component moisture-curing RTV(dehydrated), two-component condensation-during | Waterproof and moisture-proof, outstanding durability, suitable curing temperature, adapt to a variety of use environments. | Used for filling the gap of the combined cabinet and waterproof sealing of the case, shell and joint, etc. It is used to fill the gap of the structure to play a sealing role. |
| Silicone Potting Compound | One-component RTV, two-component RTV, silicone gel, and RTV | With good fluidity and flexibility, suitable curing speed, thermal conductivity, insulation, flame retardant, waterproof and moisture-proof, shock absorption and buffering, easy to reprocess and rework | Used for potting various electronic devices working in harsh environments and high-end precision/sensitive electronics, such as: LED, display, photovoltaic materials, diodes, semiconductor devices, automotive ballast HIV, car computer ECU, etc. |
| Silicone Thermal Conductive | Silicone oil, RTV (sealant, potting adhesive), HTV (gasket), silicone gel | With excellent thermal conductivity, in the thermal cycle play ah have reliability, with rework performance | Used in high-power heat generating components, components of thermal heat dissipation, thermal bonding, thermal sealing, thermal potting, such as CPU, LED drive power, 5G communication module, new energy vehicles, high-voltage distribution box, etc. |
| Silicone Coating | One-component condensation type RTV, silicone gel, fluorosilicone resin (modified silicone) | Excellent fluidity can be brushed or sprayed, good adhesion, low volume shrinkage, excellent temperature resistance | Used for waterproof, moisture-proof and dust-proof of circuit boards and electrical modules, avoiding short circuit and corrosion of conductors and solder joints. |
| Electronic Silicone Products | HTV、LSR | High and low-temperature resistance, weather resistance, compression deformation resistance, good electrical properties, physiological inertia, breathable | Used in the manufacture of various types of electronic and electrical keys, electrical insulation parts, seals, gaskets, miscellaneous parts, cell phone covers, bracelets, tablet PC sheaths, watches with rubber, Bluetooth headphones and other electronic products accessories. |
| Other | —— | —— | Silicone release film can be used as laminated isolation film and protective film for PCB and LED industry:Silicone molding plastic can be used for encapsulation plastic for electronic industry, etc. |
1. Silicone sealant adhesive
Electronic grade silicone adhesives sealants are the common material insulating corrosion-sensitive electronic components.
| | |
| --- | --- |
| | Silicone electronic sealant is a kind of composite material that is liquid before curing, has certain fluidity, and is cured under a certain time, heating, or other conditions to form an elastomer. Its main function is used for bonding, sealing, potting and coating protection of electronic components, and plays the role of waterproof, moisture-proof, dust-proof, anti-corrosion, and shock-proof. In order to protect electronic products from the erosion of the natural environment and prolong their service life, more stringent requirements are placed on the weather resistance, heat dissipation, shock resistance, and water resistance of electronic appliances. |
Silicone sealant has stable physical and chemical properties, good high and low-temperature resistance, fast working when cure mechanism begins to contact the air, and can work for a long time in the range of -50~200 °C with stable performance. It has excellent electrical performance and insulating ability because of its high surface resistivity, good dielectric properties, and resists electrical tracking. After potting, it can effectively improve the insulation between internal components and lines, and improve the stability of electronic components. Silicone electronic sealant is soft after proper cure, and higher humidity accelerates cure, which can eliminate most mechanical stress and provide shock absorption protection.
Therefore, silicone sealants are ideally suited for the electrical properties required by electronic appliances, have been used more and more in the industry, and have been recognized by more and more customers.
During the printed circuit boards process of silicone electronic sealant, the polymer bodies are closely connected together to form a good adhesive force and will not be easily pulled apart by external forces. As if it has an attraction, it will not volatilize and not break. In order to ensure the bonding effect, do not apply too thick, just evenly. If the adhesive layer is too thick, it will affect the adhesion and cannot exert good adhesion. Don't be too greedy when smearing, just complete the seal.
2. Silicone potting material
| | |
| --- | --- |
| Electronic grade silicone potting material has stable dielectric insulation, which is an effective guarantee to prevent environmental pollution and insulating corrosion sensitive electronic. At the same time, it can eliminate the stress caused by impact and vibration in a large temperature and humidity range. Based on the condensation system and addition curing system, there is no need for secondary curing, which can meet the special requirements of bonding, heat conduction, flame retardant and high transparency. After curing, it becomes a flexible elastomer; The curing speed is uniform, which has nothing to do with the thickness of potting and the sealing degree of the environment. | |
Heat conductive potting adhesive is a two-component silicone heat conductive potting adhesive, which can reliably maintain sensitive circuits and components for a long time in a wide range of temperature and humidity changes. It has excellent electrical insulation function in insulating corrosion sensitive electronic, can withstand environmental pollution and avoid harm to products caused by environmental factors such as stress, sensation and humidity. It is especially suitable for products requiring good heat dissipation of potting materials. Heat conductive potting adhesive has excellent physical and chemical resistance. After 1:1 mixing, it can be cured at room temperature or heated quickly, with minimal shortening, no heat release during the curing process, no solvent or curing by-products, repairable, and can be deeply cured into the elastomer.
3. Semiconductors
Semiconductors chip manufacturing involves five production stages: wafer preparation, wafer fabrication, wafer testing/selection, assembly and packaging and testing, and final testing, which are independent of each other, while silicone specialty gases are more or less involved in each link.
| | |
| --- | --- |
| | For example, in order to provide the required energy to the reaction system, it is necessary to deposit a solid film on the surface of the silicon wafer by mixing gases, a process called "chemical vapor deposition (CVD)". The chemical vapor deposition process is divided into three important stages: the diffusion of the reactive gas to the surface of the substrate, the adsorption of the reactive gas on the surface of the substrate, the chemical reaction on the surface of the substrate to form solid deposits, and the produced gas phase by-products are removed from the surface of the substrate. |
Among them are organosilicon silanes. Organosilicon silane is one of the main media used in the etching process. At present, there are more than 110 special gases used in the semiconductor industry, of which 20-30 are commonly used. Among them, XJY-706 1,1,3,3-Tetramethyldisiloxane and XJY-705 1,3,5,7-Tetramethylcyclotetrasiloxane can be used in chemical vapor deposition for depositing silicon film.
Product Question
What is the MOQ?
For our existing regular in-stock products, the MOQ starts from 1 piece.
If you would like to customize a product with a specific specification, please contact us to determine the MOQ.
Do you offer a delivery service?
Of course, we are happy to provide our customers with a substitute shipping service.
We also offer a courier service with different prices and delivery times depending on your needs.
Your order will be delivered quickly and safely. Our professional team will also help with any urgent.
What is the sample fee?
Samples up to 1KG are free of charge, and shipping costs are paid on delivery.
For a large amount of sample cost, please contact us to discuss.
What's the packaging?
Resin powder is usually packed in 25KG cardboard drums.
The liquid is packed in 200KG iron drums.
If you have special requirements, please contact us for customization.
What is the lead time for production?
For our existing regular stock products, we usually need 7-15 days, the lead time may be longer for higher quantities, depending on the actual delivery date of the factory.
For custom products, please contact us to determine the exact lead time.
Do you provide warehousing services for my product orders?
We offer a professional 24-hour monitored warehousing service for every customer.
What are your payment terms?
For samples, 100% T/T in advance.
For orders: 50% TT in advance, 50% balance before shipment
For large long-term orders, please contact us to discuss payment terms.
How long does MQ resin last?
We use high-standard raw materials to produce silicone pressure-sensitive adhesive, the product is valid for 12 months from the production date under the original unopened package, and the storage temperature is 25℃ and below. If the storage period is exceeded, the product should be retested and can still be used if it meets the quality requirements.