XJY-705
1,3,5,7-Tetramethylcyclotetrasiloxane TMCTS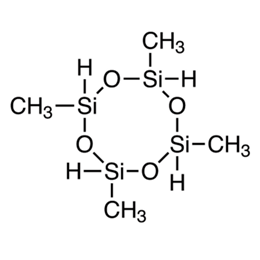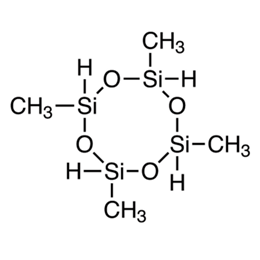 Other names

TMCTS / D4H / 2,4,6,8-Tetramethylcyclotetrasiloxane

CAS Number

2370-88-9

Formula

C4H16O4Si4

Appearance

Colorless transparent liquid
Specification
XJY-705 TMCTS / 1,3,5,7-Tetramethylcyclotetrasiloxane / D4H / 2,4,6,8-Tetramethylcyclotetrasiloxane is a reactive siloxane with Si-H bond and can react with unsaturated olefins.
Compared with linear hydrogen-containing siloxane, TMCTS has high purity because of fewer impurities; The chain links are fixed, so the molecular structure design is easy.
XJY-705 TMCTS (2370-88-9) has been registered (Full substance) under REACH (EC) 1907/2006.
| | |
| --- | --- |
| Brand | XJY-705 |
| Product name | 1,3,5,7-Tetramethylcyclotetrasiloxane |
| Boiling Point | 134℃ |
| Flash Point | 23℃ |
| Content(%, ≥) | ≥99% or ≥95% |
| Molecular Weight | 240.51 |
Application
XJY-705 TMCTS can be applied to:
1. prepare Polymethylhydrosiloxane and functional group-modified polysiloxane with specific hydrogen content and desired number of links.
2. used in special cross-linking for synthesizing room temperature vulcanized silicone rubber and addition liquid silicone agent.
3. used in synthetic special tackifiers.
4.TMCTS can synthesize various high-quality side-chain modified silicone oils such as epoxy silicone oil, polyether-modified silicone oil and alkyl modified silicone oil.
5. used in the gas required in the process of making semiconductor wafers.
6. 1,3,5,7-Tetramethylcyclotetrasiloxane (TMCTS) is a good impregnant for photoelectric materials. It is used in the production of silicone polymers and as a precursor for the deposition of polysiloxane, cyclic siloxane, silica and low dielectric constant carbon oxide films for microelectronics and semiconductors. TMCTS can also be used as a precursor for plasma vapor deposition in the electronic industry to form silicon dioxide and silicon carbide insulating films.
Packaging
XJY-705 1,3,5,7-Tetramethylcyclotetrasiloxane TMCTS packaging provides 40kg in 60L drums or 180kg in 210L(55gal) drums or ISO Tank. Hazardous chemicals are only provided with fixed-size packages, and designated packages are not accepted.
Storage

Stored in the original unopened containers. Keep away from light, rain, and ventilation below 30℃ in a dry and cool place.

UN1993 Hazardous Chemicals.
FAQ
Documents
Related Products