What is the mold release agent?
The mold release agent is used to form a semi-permanent film layer that does not participate in the reaction and isolates the mold and the product so that the product can be easily released from the mold. It requires high adhesion to the mold and does not react with the product.
Benefit from the following manufacturing advantages:
1. Pre-production samples for all orders before production starts
2. Free packaging services
3. Precision manufacturing on branded CNC equipment
4. Experienced engineers to monitor the entire production process
5. Stable after-sales service
6. 24-hour warehousing service and logistics support
7. Wholesale and retail experience
8. Quality control, including raw material incoming inspection, process intermediate product inspection, finished product factory full analysis inspection
9. Invest more than 12% of sales in R&D each year
Product

F

eatures
Used in release agent formulations, used together with dimethylsiloxane silicone release agents formulations, the resin forms a resin film on the surface of the production mold, thereby improving the repeated use effect of the release agent and excellent resistance of heat. At the same time, the mold release performance is improved.
Methyl MQ resin is formed by polymerization of tetrafunctional siloxane (Q) and monofunctional methyl siloxane (M). It is widely used in the fields of personal care, adhesives, defoamers, waterproofing agents, etc., and has a good application effect in the fields of high temperature, semi-permanent, or permanent for silicone release agent.
In the silicone mold release agents formula, polydimethylsiloxane is widely used, and a certain amount of MQ silicone resin is added to it. After being coated on the surface of the mold at high temperature, some hydroxyl groups on MQ resin will be condensed to form a reinforcing filling for film formation of dimethylsilicone oil, thus increasing the use temperature of the release agent and increasing the reuse times, thus improving the production efficiency of downstream customers and reducing the production cost.
Applications
The silicone mold release agent is widely used in the mold making of liquid plastic products and release mold rubbers: silicone rubber mold, urethane rubber mold cured rubber molds. It can also be used in metal casting, paper making, fiber, food processing and other industries' production processes. Most urethane liquid rubber: release mold rubber tires, rubber boots, rubber tubes.
Silicone mold release agents are widely used in various molding operations such as metal die casting materials, polyurethane foams and elastomers, glass fiber reinforced plastics, injection molding thermoplastics, blow molding, vacuum foamed sheets and extruded profiles. During molding, sometimes other plastic additives such as plasticizers will ooze out to the interface. At this time, a surface remover is needed to remove it. Casting applications: magnesium, aluminum, zinc alloy metal castings.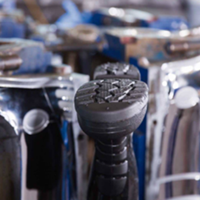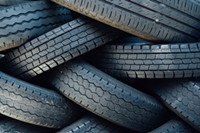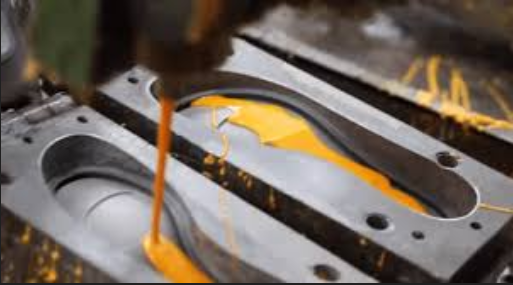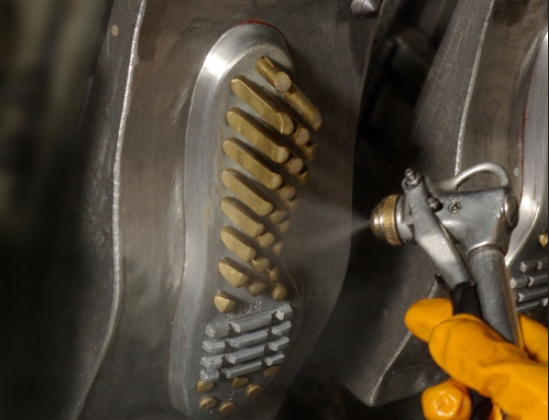 Working principle
The release agents can be attached to the surface of the properly prepared models, its polar chemical bond can form absorption film with regenerative force through the interaction. Some can adhere firmly to the mold and solidify on the mold surface to form a semi-permanent release film. The silicone oxygen bond in polysiloxane can be regarded as a weak dipole(Si+-O-). When the mold release agent is arranged in a single orientation on the mold surfaces, molecules take the unique extended chain configuration; the release film and the molecules of the mold release product are mutually exclusive, the release agent does not combine with the workpiece so that the workpiece can be separated easily from the mold.
The mold surfaces are covered by alkyl groups of release agent in a dense manner, and mold release ability increases with the density of alkyl; however, when the alkyl occupies a large steric hindrance, the stretching configuration is limited, and the mold release ability will be reduced; the mold release ability is also related to the molecular size and viscosity of the silicone oil, good spreading property with small molecular weight, but poor heat resistance.
So when MQ resin is used together with polydimethylsiloxane, the resin forms a resin film on the mold surface, which significantly improves the reuse effect of the release agent, and improves the heat resistance. Meanwhile, the mold release performance of the finished product is better.
Comprehensive Characteristics
Universal mold release agents have the characteristics of low-temperature viscosity coefficient, oxidation resistance, low volatility. Silicone oil, in addition to using as release agents, can also be mixed into solution, emulsion, grease, paste and other forms to use.
• Easy release on cold and hot molds, high and low-temperature resistance
• No discoloration of molded parts, smooth on liquid plastics
• Can be diluted with solvent
• Low surface tension, smooth on rubbers
• In most cases, it can be mold released in multiple releases cycles without release agent limits the production life, achieving semi-permanent demoulding.
• Providing demoulding thin film with thermal stability, good insulation, non-carbonization, nonoil, no corrosion to mental and non-toxic.
Product Question
What is the MOQ?
For our existing regular in-stock products, the MOQ starts from 1 piece.
If you would like to customize a product with a specific specification, please contact us to determine the MOQ.
Do you offer a delivery service?
Of course, we are happy to provide our customers with a substitute shipping service.
We also offer a courier service with different prices and delivery times depending on your needs.
Your order will be delivered quickly and safely. Our professional team will also help with any urgent.
What is the sample fee?
Samples up to 1KG are free of charge, and shipping costs are paid on delivery.
For a large amount of sample cost, please contact us to discuss.
What's the packaging?
XJY-301/302 Silicone PSA series can be supplied in 190KG or 200KG internally coated open iron drums. If you have special requirements, we can negotiate for customization.
What is the lead time for production?
For our existing regular stock products, we usually need 7-15 days, the lead time may be longer for higher quantities, depending on the actual delivery date of the factory.
For custom products, please contact us to determine the exact lead time.
Do you provide warehousing services for my product orders?
We offer a professional 24-hour monitored warehousing service for every customer.
What are your payment terms?
For samples, 100% T/T in advance.
For orders: 50% TT in advance, 50% balance before shipment
For large long-term orders, please contact us to discuss payment terms.
How long does MQ resin last?
We use high-standard raw materials to produce silicone pressure-sensitive adhesive, the product is valid for 12 months from the production date under the original unopened package, and the storage temperature is 25℃ and below. If the storage period is exceeded, the product should be retested and can still be used if it meets the quality requirements.