XJY-707
Hydride terminated Polydimethylsiloxane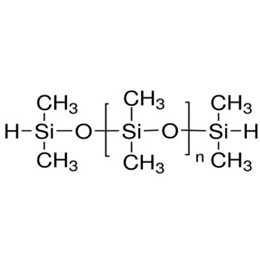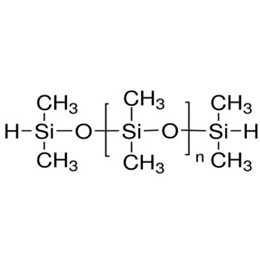 | | |
| --- | --- |
| Other name | HPDMS |
| CAS Number | 70900-21-9 |
| Appearance | Colorless transparent liquid |
Specification
Hydride Terminated Polydimethylsiloxane is soluble in various organic solvents such as aromatic hydrocarbons/petroleum hydrocarbons. It is insoluble in water and is a widely used silicone intermediate.
Hydride Terminated Polydimethylsiloxane (CAS: 70900-21-9) has been registered (Full substance) under REACH (EC) 1907/2006.
Brand Name

XJY-707-30

XJY-707-10

XJY-707-015

XJY-707-030

XJY-707-050

XJY-707-075

Appearance

Colorless clear liquid

Content of Hydrogen (%)

0.27-0.30%

0.09-0.11%

0.015-0.017%

0.030-0.034%

0.048-0.052%

0.073-0.078%

Viscosity (25℃,mm2/s)

4-7

24-40

250-350

100-150

50-80

30-50

Volatile matter (105℃/3h)

≤10%

≤1.5%

≤10%

≤5%

≤3% or ≤1%

≤6%

Hydride Terminated Polydimethylsiloxane can be customized according to customers' request.
Application
1. Hydride Terminated Polydimethylsiloxane is usually used as a silicone end-capping agent.
2. Due to Hydride Terminated Polydimethylsiloxane containing reactive Si-H groups in the molecular structure, it can be used in the synthesis of copolymer macromolecules by hydrosilylation. The synthesis of copolymer macromolecules can be made into a series of reactive silicone oil.
3. Hydride Terminated Polydimethylsiloxane is usually used to produce textile softener, block silicone oil, surface-active agents.
4. As a chain extender for adding liquid silicone rubber, adding a crosslinking agent for forming a hot vulcanized silicone rubber;
5. As a waterproofing agent and softener for natural and synthetic fabrics;
6. As the special silicone surfactant;
7. Hydride Terminated Polydimethylsiloxane can be used in the manufacture of a variety of end group reactive linear modified silicone oil.
8. As the key intermediates of block copolymerization reaction.
9. As a modification of the reaction, such as plastic resin.
Packaging
XJY-707 Hydride Terminated Polydimethylsiloxane packaging provides 190kg in 210L drums IBC drum.
We control the molecular weight of this product so that it can be sold and transported as a common chemical, not a hazardous chemical.
Storage
Stored in the original unopened containers. Keep away from light, rain, and ventilation below 30℃ in a dry and cool place.
Documents
Related Products