XJY-701
Polymethylhydrosiloxane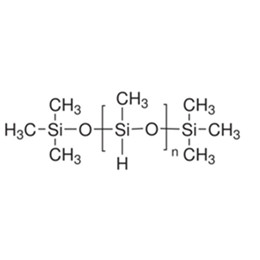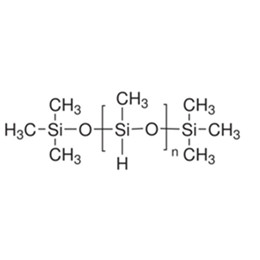 Chemical Name

Polymethylhydrosiloxane PMHS

Product Name

High hydrogen silicone oil,

Methyl hydrogen siloxane

CAS Number

63148-57-2
Specification
Polymethylhydrosiloxane is a high molecular weight organic synthesis with a general chemical structure. Commercially available products are usually linear polysiloxane, but cyclic silanes forms can also be used. Polymethylhydrosiloxane is soluble in most aliphatic and aromatic hydrocarbon solvents, but insoluble in water and low alcohols.
Polymethylhydrosiloxane (PMHS) is a widely used reducing agent which is easily handled, non-toxic, mild and stable. Although relatively inert to organic functional groups, PMHS can transfer its hydrides to various metal catalysts and many other reducible functional groups, which can then participate in extensive reduction. Polymethylhydrosiloxane can also be used in combination with nucleophilic activators as the reducing agents.
Item

Hydrogen

content(%)

Viscosity

(25℃,mm2/s)

Reflective Index(n25d)

Effective Mass Density

(25℃,g/cm3)

Volatile (105℃/3h)

Index ( Supplier Dependent)

1.58-1.62%

15-30

1.390-1.410

0.995-1.015

≤1%
Application
XJY-701 Polymethylhydrosiloxane is a colorless free-flowing liquid, can be used as waterproofing agents for materials such as fabric, glass, ceramic, paper, leather, metal, cement, marble, etc., especially for fabric. Under the reaction of metal catalysts, Polymethylhydrosiloxane can be cross-linked into a waterproof film on the surface of various materials at a low temperature. Polymethylhydrosiloxane is usually used as a cross-linking agent, and the active Si-H makes it also used as an antioxidant.
1. Anti-yellowing agents for high temperature vulcanized silicone rubber;
2. Cross-linking agents for addiction silicones;
3. Mold release agents;
4. Polyurethane foam stabilizer, coating leveling agents and fabric finishing agents when compounding to modified silicone oil;
5. Building ceramic anti-fouling agent;
6. Moisture-proof and hydrophobic treatment for natural stone, marble, etc.;
7. Water repellents and softeners for synthetic fibers;
8. Compound to low hydrogen silicone oil
Packaging
XJY-701 Polymethylhydrosiloxane is available in 25kg and 200kg plastic drums, IBC drums. Packaging options are available upon request.
Storage

Stored in a tightly closed container in a cool, dry place. Transported as non-dangerous products.
FAQ
How to Preparation
Methyldichlorosilane is hydrolyzed and then heated (60-150 ° C), and the resultant mixture of cyclic silane in the presence of hexamethyldisiloxane generates linear polysiloxane.
Documents
Related Products